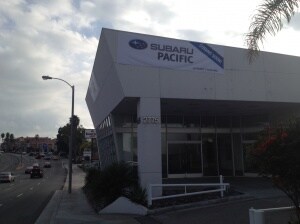 www.SubaruPacific.com

Los Angeles - December 1, 2011 - LAcarGUY is pleased to announce the addition of Subaru Pacific to its family of dealerships. Subaru Pacific, LAcarGUY's eleventh dealership, will open its doors December 5th, 2011 in Hermosa Beach, and will then move to its permanent location in Torrance the following year. Subaru has not had a presence in the South Bay for fifteen years, but Mike Sullivan, President of LAcarGUY, believes the time is right to bring this iconic brand home.
"As our eleventh LAcarGUY dealership, we think Subaru Pacific is an absolute natural fit for us. Subaru owners exemplify the independent spirit and active lifestyle of southern California, as does Subaru Pacific's new General Manager (and Triathlete), James Hartzberg. In addition, Subaru's long history of environmental commitment aligns with LAcarGUY's mission," said Mike Sullivan.
"The South Bay has been a great market for Subaru for years, so in searching for the right dealer, we didn't want to settle for "really good" we wanted "great" said Bill Cypers, Subaru of America's Senior Vice President of Sales. Cypers', in town for the unveiling of Subaru's BRZ sporty coup at the L.A. Auto Show, went on to say, " Though we had several excellent candidates seeking to represent Subaru in the South Bay, Mike Sullivan's LAcarGUY stood out among the rest due to his wonderful reputation in both the local community and automotive industry.
LAcarGUY has always been a champion of sustainable mobility and like Subaru of America, is committed to a greener future. Since 2003, Subaru has offered certified Partial Zero Emission Vehicles (PZEV) including Legacy, Outback and Forester models that meet California's Super-Ultra-Low-Emission vehicle exhaust standard and Subaru's Indiana manufacturing plant became the first automotive assembly facility to be "zero landfill," setting a precedent for the industry. Subaru also manufactures the most fuel efficient all wheel drive vehicle in America - the all-new 2012 Subaru Impreza.
Involvement in the community is another commitment shared by LAcarGUY and Subaru Both companies are known for their generous support of local organizations and non-profits in the areas in which they operate. In addition, LAcarGUY and Subaru have each achieved double-digit growth that they hope to maintain in order to have a positive impact on the local economy.
About LAcarGUY
The LAcarGUY family of dealerships has been a Los Angeles fixture since "Sully" Sullivan opened his first dealership, Volkswagen Santa Monica in 1964. Today, LAcarGUY includes 10 award-winning dealerships throughout Los Angeles and a state-of-the-art body shop. Known for its outstanding customer service, long-term relationships, and word-of-mouth marketing, LAcarGUY is the first choice when shopping for a new or used car. As a local family-owned business, LAcarGUY is recognized as a prominent supporter of community events, charitable organizations and environmental causes. As the number one hybrid dealer in the world, LAcarGUY is proud to lead the industry to a greener automotive future.
About Subaru of America
Subaru of America, Inc. is a wholly owned subsidiary of Fuji Heavy Industries Ltd. of Japan. Headquartered in Cherry Hill, N.J., the company markets and distributes Subaru Symmetrical All-Wheel Drive vehicles, parts and accessories through a network of more than 600 dealers across the United States. All Subaru products are manufactured in zero-landfill production plants and Subaru of Indiana Automotive Inc. is the only U.S. automobile production plant to be designated a backyard wildlife habitat by the National Wildlife Federation. For additional information visit www.subaru.com.